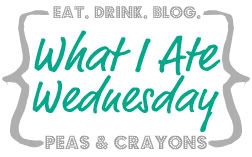 Mother's Day Weekend Edition
A day of food and honoring moms…
Happy Mother's Day to all those woman out there who are mother's and who act as mother's, pet mommy's count too! I hope you all had a wonderful weekend and got to spend sometime with your loved ones.
I had grand plans of family time this weekend. It was slightly foiled by illness, but wonderful all the same. I was looking forward to our back yard camping, movies, breakfast and dinner in our camper with Andy, Mya, the cat and dogs by my side cuddled up in our small special little family getaway.
We all make do with what we call a vacation. For us, the back yard has to suffice, our business does not allow for travel, so we happily entertain ourselves with back yard vacations. They are really fun, and I look forward to them more than and all expense paid tropical getaway. Camping is a passion of mine, yes, even though we upgraded from a tent to a camper, it is still camping to me! I think I got off topic! Anyway, all week I couldn't wait until the weekend, Andy and Mya had just recovered from a stomach bug that was making it's way through her school and just about everyone I know, I thought I escaped. Nope! Late Friday night I felt the sickness coming on, by Saturday morning, I was bed ridden with a fever, aches, belly ache and no desire for coffee! That is when I know I am sick.
| | |
| --- | --- |
| | |
Andy and Mya graciously took care of me, feeding me tea, ginger ale, gluten free toast and pancakes, and allowing me plenty of rest. It was not the family time I had planned, but, it was a beautiful Mother's Day gift to be taken care of by your family. Prince laid by my side all day. He did the same for Mya and Andy when they were ill too. What a sweetie!
I spent all of Saturday on the couch and watched an all day and night Harry Potter marathon in between naps. I couldn't even look at my phone. I was just miserable. I was ready to call it a night at 9:15 and get a good night's rest.
I awoke at 7:00am, faintly hearing the clangs of dishes downstairs and the smell of brewed coffee rising up the stairs. It was a few minutes before my mind allowed me to wake up, just in time to catch a widely grinning Mya bursting my door open with a tray of goodies for my Mother's Day breakfast in bed.
I felt so blessed in that moment, seeing how proud she was. She had a cup of coffee for me, fixed with the perfect amount of coconut creamer, a lightly buttered slice of gluten free toast that was thick with my favorite blueberry jam, and a small stack of gluten free pancakes that she microwaved and dressed in a drizzle of agave. The taste of love was in every bite.
Andy was still beside me in bed and the dogs and cat surrounded us too. Miraculously, I woke up feeling so much better than on Saturday. Could one ask for more? In that moment, my heart could not hold more love or gratitude for the blessing of family in my life.
Mother's day gifts included coupons from Mya, one even for her to do some yoga with me! I also received a beautiful OM amulet from Mya and Andy in honor of the ebook I am writing. I helped pick it out, but it was even prettier in person.
And, from my mom, a special gift that I will look at and use everyday and think of her. A turquoise blue cast iron enamel 6 qt. Dutch oven. Oh how I love it!!! It matches my kitchen perfectly!
Okay, back to the story, after a wonderful breakfast, I felt soooo much better, almost myself. I decided not to cancel the day, Andy's mom and dad were coming over for lunch.
I went ahead and made the pasta and snacks, though I was too afraid to eat any of it, I stuck with toast, and did not kiss or hug anyone, just in case! I usually put out a big spread, but no one seemed to mind the simple lunch for a change.
The menu was short and sweet:
Quinoa Bean Chips with Mixed Up Salsa
Brown Rice Pasta with Meatless Meatballs
Fresh Italian Bread from the bakery.
Mya baked cookies for dessert, the done ones were devoured before pics!
My in-laws bought me a beautiful new book, which I instantly feel in love with. The pictures and recipes are both inspiring. What a great gift for any foodie, vegetarian or photographer.
I always give my mom and Andy's mom flowering plants, they both have a green thumb and can enjoy them and think of us all summer.
After everyone left, I still had a little energy, so I potted some more of my flowers along the steps, I needed it to feel more like summer.
Since I was feeling so much better, by dinner I became more adventurous and chose to have a bun-less gluten free veggie burger. Mya wanted to try Gardein's new sliders and Andy had a regular Gardein burger on thick grilled rye. Some organic tater tots and baked beans were served on the side. I stuck to just a few tots and no beans.
The sliders are so cute, Mya loved them, she even asked for them for breakfast the next day. I said no, but she tried!
That was all the food for the day! We ended the night watching the season finale of Once Upon A Time, our Sunday evening ritual!
Although Mya and Andy were by my side, I was not able to see my mom or grandmother on this day, could not risk getting them sick, hopefully this weekend.
My mom and me are as close as a mother and daughter could be, and she was that way with my grand mother, I can only pray that me and Mya will have that same type of best friend and mom relationship. It is comforting knowing that no matter what happens in your life joyous or sad, there is ALWAYS a person to cheer you on or let you cry on their shoulder. In my life there was never a shortage of advice, support and friendship from my mom or grandmothers.
My dad's mom, deemed "St. Mary", whom I lived with growing up, is not here with us anymore. She is my cooking inspiration, and she remains an angel watching over me in my kitchen everyday! I miss her so much.
My mom's mother, famously flirtatious fire-y redhead known as Grandmom Caroline Falco, is now 96! She is still very healthy physically, not on any meds except for Dementia, and that has only been since she was 92. She is an amazing woman, my mom sees her everyday, no matter what! I hope to be half the daughter my mom is.
Grandmom still has great skin from all that healthy Italian peasant cooking. Last time I saw her, a few weeks ago, I had to take a picture, because there are 50 year old movies stars who have more wrinkles. Yes, she's 96!
I hope I inherit her skin, my mom certainly has…
How old is my mom? She is, well let's not say, but you know her mom is 96. My mom looks so young, people always think we are sisters. I used to get mad at those comments when I was little, now I hope for them someday with Mya!
I truly hope to be a mother like my mother and daughter like my mother. She is so selfless for her family, and everyone else's. She was born without the word "no" in her vocabulary. When she can't do something someone asks, she doesn't say "no", she says, "now let's figure this out", and magically she always has a solution for them. I aspire to be more fearless like her and put my dreams in action, she encourages me to. All my crazy businesses would not have happened with out her encouragement. So, I just want to say, "Thanks mom, I love you!"
Thanks for joining me today for some food and some off topic mom honoring. I don't get that personal so often, but Mother's day is sentimental to me, Mya changed my world and brought me an even greater love than I knew possible and after years of hearing my mom say, "when you have a child, you'll understand XXXXX", I do understand. The love you can have for a child is beautiful and merciless. It is as strong of a bond there could ever be. I wish every mother and woman who is like a mother to someone, to be blessed with joy and happiness. Spend time together, life is so short. Live, love, laugh and drink coffee together, it is the key to happiness!
Happy Mothers day and What I ate Wednesday.
XOXOX,