Hi everyone, thanks so much for joining me again for another What I Ate Wednesday! I am so happy the weather is changing, I finally picked up plants for the garden, the basil already smells like summer! My one garden is overflowing with lemon balm, thank goodness the bunnies like it! This week it truly felt like summer is around the corner. I have some great meals to share and an exciting day at the launch of a new local wellness center!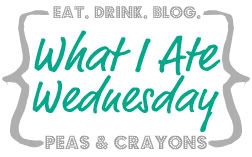 My fitness program continues to be 45 minutes of cardio on the elliptical or 35 minutes on recumbent bike at 5:45am, followed by breakfast, then 45 minutes of strength training, and every evening at 6:30, I do another 45 minutes on the elliptical, or bike, or fresh air walking the trails around the school. I feel like it has been really paying off, I notice my strength increasing.
I am still gluten free, I cannot tell you how long it has been since I have indulged in a veggie meat substitute, they almost all contain wheat gluten as a binder. I still really have not noticed a difference, other than my skin seeming clearer and not really having any headaches. I think I may have had one in the past seven weeks, and that was scent related. I cannot tolerate perfumes, instant headache, anything heavily scented drives me crazy! In that case, most of the meals featured this week were gluten free.
Breakfast: A classic tofu egg, kale, shitake, onions, peppers, a few shreds of Daiya and a slice of gluten free avocado toast. 350 calories of bliss!
Lunch: Tempeh Lentil Sloppy Joe with Cole Slaw and Kale Chips.
My new favorite product:
I used this on my kale chips… they were super crispy without so much oil required!
Dinner: Roasted Potatoes, peppers, onions, corn and portabella mushrooms gently tossed in steak sauce. It tasted like summer!
Dessert: Mini tofu cheesecake bites with berries in an agave lime toss. The ones in pastry were not gluten free, but I did make myself a few that were just in silicone cupcake liners.
I served these as a healthy dessert at the grand opening of the new R3 Wellness Center that is opening in Trappe, PA.
A super successful local business woman and realtor, Kathy Opperman has opened the center. She had a dream of bringing together like minded people with talents in all things health, wellness and metaphysical. I am scheduled to do a a few nutrition talks and workshops there. I am so excited. The staff and practitioners were all so wonderful, and so many residents came out to support the new center.
Mya came to help and entertain some of the other kids, she had a blast!
I was blessed to have a table next to my mother. Those of you who don't know, she a spiritual medium. Through the afternoon she must have spoke to a hundred people, making many sob with joying as she spent a few minutes connecting them to their loved ones that past. No matter how many times I watch my mother do readings, I am still in awe every time. Although I have certain abilities, I can read and interpret cards well, she astonishes people with the unique connection she can make to the ones they love. They all say, "how did you know that?" as the tissues are passed! I am so proud of her, I know it is sometimes draining, but she is blessed with a gift and she takes every opportunity she can to provide people with the peace they need to know there loved one is safe and always with them.
Mom- I am so proud of you—"Happy Mother's Day", I love you!
Back to dessert! Everyone really loved these bites and were shocked that they were a healthy and lite bite because they tasted so decadent. They were 30 calories a piece in the shell!
For all those who asked for the recipe, here it is.
Mini Tofu Cheesecake Bites: Makes 90 bites
Ingredients
20 oz. soft tofu, drained
8 oz. Tofutti vegan cream cheese
1/3 cup organic sugar
1 tbsp. vanilla extract
Juice 1/2 lemon
1 tsp. lemon extract
1 tbsp. arrowroot
2 scoops vanilla protein powder (optional)
90 frozen fillo pastry shells
2 cups berries tossed with 2 tbsp. agave and 1 tbsp. lime juice
Preheat oven to 350 degrees. Toss berries with agave and lime juice, set aside in refrigerator. Place all ingredients from tofu through protein powder into food processor. Blend until totally smooth and creamy. Place mini fillo cups onto a baking sheet. Fill them until almost at top of shell, about 1/2 tbsp. When all shells are filled bake in oven at 350 for 12-15 minutes. Remove from baking trays and allow to cool on rack. After about 15 minutes, top with berries. Serve!
I know this was a long What I Ate Wednesday post, thanks for hanging in there! I look forward to our next WIAW. To all you moms out there reading this, "Happy Mother's Day". Enjoy time with your family and have a wonderful healthy meal together!
Have a great Wednesday!