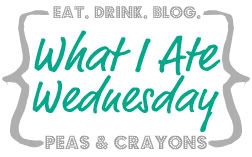 Happy What I Ate Wednesday #28, back to school. I am so sad for me and happy for Mya today. She begins fourth grade, and I have to see my baby move up a grade and miss her all day long. No more "I'm hungry", "Can we go somewhere", "Can so and so come over", no more ice cream wrappers and napkins laying about the sofa, no more Monster high and Lalalopsy houses built out of cardboard intruding my space, oh, how I will miss summer. Now, all these things will occur after 3pm and on weekends!
I love having Mya home, waking up with a smile. Since infancy she has been a wonderful morning person, she ALWAYS wakes up smiling and happy. We are so blessed. Mornings have never been an issue. Off to school will be another post, my "What I Ate Wednesday", is the day before school preparation crunch. These are the meals we ate while tying up all the loose ends before the big day.
After my thirty minute cardio session to wake-up, I made a berry protein shake. I used 1 cup unsweetened almond milk, ice, 1/2 frozen banana, 1cup mixed frozen berries, two scoops vegan vanilla protein powder, 1 tbsp. chia seeds, and 1 tbsp. hemp seeds, and topped with a few tbsp. flax cereal on top for crunch.
I had a lot of office work to do this morning. I also had to make sure I had everything that Mya needed for school, it was a long list!
I need to get to the grocery store, you know, I can almost see the shelves of my fridge, I can't let that happen!
I scrounged up enough ingredients to make a fabulous pot of chili for lunch.
Fresh garden tomatoes…
Helen's Organic Soy Chorizo…
Kidney Beans and Chili seasoning…
along with some celery, onions and peppers.
This makes for a medium heat chili that a dollop of vegan sour cream can mild out for Mya. Once the chili was cooked and we were ready for lunch, I cubed and browned up some leftover polenta squares that I made yesterday. They were a perfect topping for the chili, along with some chopped green onions, a little vegan cheddar and some vegan sour cream. Perfect protein packed lunch!
Around 2:30, I knew my strength training could not wait much longer, so I had to re-fuel. I made a small pina colada protein shake. It consisted of ice, almond milk, frozen pineapple, coconut extract, vanilla protein with hemp seeds on top and inside, I also added some dehydrated coconut.
I was glad I drank this before my workout, because I really pushed myself with much heavier weights. I think the extra protein will help in recovery.
After some more office work, dinner was fast approaching, and I was hungry. So hungry that I made a beautiful south west salad, and forgot to take a picture. What is wrong with me??? Here is a pic from a past similar salad.
Greens, tomatoes, onions, corn, Gardein chili lime chicken, my taco sauce/creamy Italian dressing blend.
Onto dessert, which was enjoyed in pieces through the day, peanut butter brown rice crispy treats with chocolate chips.
For me, these blow away the traditional crispy bars. They only contain four healthier ingredients: 6 cups Brown Rice Crispy Cereal, 1 cup Organic Unsweetened Unsalted Peanut Butter, 1 cup Brown Rice Syrup, and 1/3 cup Grain Sweetened Vegan Dark Chocolate Chips. Each thick large bar is about 200 calories. I like to split mine into three pieces, one after each meal.
I just warmed the peanut butter and brown rice syrup together to loosen and blend, then pour into my large bowl of rice crispy cereal, mix until coated. Add chocolate chips when almost completely blended. Pour mixture into greased 13x9 casserole dish. Press down with spatula until smooth. Cover and refrigerate one hour. Cut into 18 large bars and enjoy!
Good luck to all the kiddies who go back to school this week, you will be missed!!!
Here is a pic from this morning…
Now that's more like it…
I hope you all have a great Wednesday.