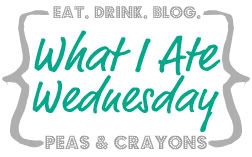 Welcome to another addition of What I Ate Wednesday. The holiday had me a little off when it came to what day of the week it was!
Yesterday, I actually missed my breakfast pics, but, it was nothing exciting, after a weekend of bbq food, I had a simple protein shake and 1/2 of a whole wheat English Muffin with a cup of coffee.
Here is a recycled picture of one of my favorite protein shakes.
Lunch was also pretty simple. Leftovers. Over the weekend, I made tons of these awesome vegetable skewers with a couple of pieces of Gardein Beefless tips mixed in. I had enough to make both Andy and I lunch from the leftovers, served on a bed of steamed brown rice. I prefer them fresh off the grill, but as hot and humid as it was yesterday, I was glad not to have to be in front of the grill.
I made these with par-baked quartered potatoes, yellow and green zucchini, beefless tips, mushrooms, onions, peppers, and a cherry tomato on the end! I made a quick basting marinade out a little bit of olive oil, water, lemon juice, vegan Worcestershire sauce, and some Mrs. Dash steak seasoning. I cooked them on the grill about 10 minutes, flipped another 10 minutes, until they were cooked through. After being in the refrigerator for two days, I reheated them on the stovetop in a griddle pan.
After lunch, I had another coffee, did some running around, worked in my office and then prepared an early dinner before Andy had to run to a game.
Dinner was BBQ Chik'n & Slaw Wraps. I made a quick slaw from a 1/2 bag of slaw mix, 1/2 bag of shredded red cabbage, 1 small red onion thinly sliced, 1 large carrot grated, and slaw dressing. My dressing was Vegan mayo, Dijon mustard, apple cider vinegar, agave nectar, celery seed, sea salt and pepper. I let the slaw sit in the fridge for an hour before making my wraps. I used carb balance whole wheat tortillas as my base. Then added slaw and then pieces of Gardein Chick'n coated with a sweet and spicy bbq sauce on top. I rolled them and served with some baked sea salt and vinegar chips.
An hour after dinner I had a decaf coffee and a small piece of a black bean brownie.
I was still hungry at 8pm, and although, I detest eating at night, I caved and had a small bowl of Uncle Sam's cereal in coconut milk.
So, there you have it, what I ate Tuesday on Wednesday. I look forward to posting lots of my favorite summer meals whether at home, or on the go. Only two and a half weeks of school left, yay! I can't wait until Mya is home for the summer and the fun can begin. Hopefully I can blog from the campground or by the poolside, where I hope to be spending a great deal of summer.
Do you have any great summer plans?
Have a great Wednesday!