Happy almost summer! To all the Americans reading this post, happy Memorial Day. It is so wonderful to have a special day each year to remember all of the soldiers from the past, thank the soldiers in the present and be grateful to all of future soldiers. Just about everyone knows someone, friend or family who has served in our distinguished military. These brave men and women deserve so much respect and honor, one day a year is a beautiful gesture, but thinking and praying for them everyday is essential!
We had a lovely day with family and friends on Sunday who came over to our house and enjoyed a little feast. I was too short on time to take pictures, so I opted to include our Memorial Day meals from home and at a picnic.
Since I was not sure of the picnic eats, I made us a hearty breakfast and packed us some vegan options to go.
Breakfast:
Tofu eggs with spicy Daiya cheese on a bed of sautéed Tuscan kale, onions, peppers and mushrooms. A side of gluten free brown rice bread toasted and loaded with smashed avocado seasoned with sea salt and cracked pepper. This lovely filling breakfast is under 400 calories and so satisfying.
Pictures by the pool…I can't wait until it is warm enough for me to swim. Mya and her friends have bared the cold water to get some splash time in. I remember being a kid and not minding the cold water, what happened?
We were invited to Andy's friend's house for an afternoon of Horseshoes and picnicking. After breakfast we ran around a bit before packing up for the picnic. I decided to bring fruit, everyone likes fruit, right? I was exhausted from Sunday's festivities, so making something to bring was not in the cards. I packed Andy a leftover vegan hoagie from Sunday, I brought myself some tvp tuna with gluten free rice crackers, and a canister of coffee with coconut creamer. I can't leave without my afternoon coffee fix!
Andy was looking forward to meeting up with his horseshoe buddies. I did not know anyone who was going be there, but Andy always meets great people through his sports and activities. I was hoping to meet some nice wives or girlfriends to hang out with for the day and that Mya would have someone to play with while Andy got his game on. The party was about 25 minutes away. Upon arrival, we made our way back to a beautiful backyard that was full of large trees that blanketed the area with shade allowing streams of sun to peak through. It was a gorgeous 72 degree day, perfect picnic weather.
Small World:
As we rounded the corner and made introductions, immediately the hosts wife, Tiffany, said I looked familiar. I took one look into her stunning eyes and my childhood summers flashed before my eyes. OMG, we grew up spending our summers together from two to sixteen at a very small remote beach community on the Chesapeake Bay more than two hours from our current homes. It had been about 20 years since I have seen her! All the childhood memories came rushing back. We laughed for hours reminiscing of the simple fun we had as kids with nothing more than our imagination and whatever nature provided. What a small world. Whether we were swimming, catching frogs, or playing kick the can, ghost in the graveyard, or flashlight tag at night, we were never bored. We were constantly coated in a potent layer of OFF to keep the mosquitos away from our Aqua-net sprayed bangs! Those were the days. Twenty years and two hours away, connected to an old friend. Ironically we also have been both with our husbands 21 years, we even got married at the same place! It's funny how fate brings people back in each other's lives.
There was so much food at the party, even some delicious vegan salads. We had a great time. Here is a picture of lunch.
I know this looks like not much food, but I refilled on the salads, they were so good. Since we arrived at noon and did not leave until seven, this plate made a repeat appearance at dinner, only with a scoop of baked beans added. I grazed on salad and fruit all day. I was pretty happy no junk ended up on my plate. Mya ate some cake for me.
We had a great day. Andy threw a lot of horseshoes and Mya found a friend to play with all day.
FAST FOOD:
Since there were only two meals from Monday, I thought I would give you an idea what I consider a "Fast Food" lunch. We often have to rush out the door shortly after lunch, so having some quick options is helpful to have on hand. I always keep bags of frozen rice and Trader Joe's Enchiladas.
Both take minutes to heat up and while they are heating, I chop up some mix ins for the rice. These awesome enchiladas also only pack 130 calories each. They come two in a pack and when paired with rice and veggies, they are a complete meal.
I season the rice with Mrs. Dash Fiesta Lime seasoning and a squeeze of real lime juice before adding chopped veggies. Chopped tomatoes, onions, green onions, avocado to add to the rice, then about two tablespoons of TJ's Cowboy Caviar, which is a thick salsa that consists of tomato, black beans and corn. I put the base of rice on a plate, then add some chopped spring mix lettuce and cilantro from my garden on mine alone! Then, I place my enchilada on top with a shaving of Dayia jalapeno cheese. In less than 9 minutes, lunch is served, and it's a lot healthier than Mexican from a Bell!
The theme of Tuesday seemed to be RUSH. So dinner was another fast food meal. This is pretty much five ingredients and twenty minutes to a delicious heaping bowl of pasta.
I boil water for my brown rice fettuccini, and while that starts, I heat up my Dutch oven with some coconut oil before adding half a bag of these amazing tasting "sausage" pieces by Wegman's. They are not gluten free, so I gave Andy the pieces that ended up in bowl, same goes for the meatless meatballs.
As soon as the sausage bits begin to brown, I add two jars of my favorite organic Bertolli sauce. I lower temp, add a few bay leaves and defrost half a bag of meatless meatballs in the microwave for one minute before adding them to the sauce. Once the water is boiling, I add the brown rice fettuccini noodles to it, stirring often. Once the meatballs have been cooking a few minutes, I add a can of rinsed and drained white kidney beans to the sauce, That is my protein. The sauce cooks an additional 15 minutes on low before adding the cooked noodles to it. I mix it to coat the noodles with sauce and it is ready to serve with some vegan parmesan on top!
That concludes the meals in this edition of What I ate Wednesday. Click this link to pop over to Peas and Crayons to see lots of other bloggers meals this WIAW!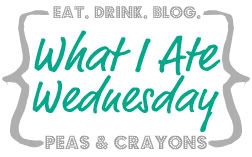 I hope you have a wonderful week! I am off to do my workout, holiday's always throw me off! See you next Wednesday!