Is anyone else Strawberry obsessed right now? Is there really anything as sweet as the first really ripe, perfect strawberry of the early summer season? I was so excited to see the store stocked with baskets of fresh organic strawberries, it feels like so long ago since I had one that was not frozen. Subconsciously I must have missed them far more than I knew. It wasn't until I uploaded my pictures that I realized how many meals these ripe berries made their way into this WIAW.
Update: Eight weeks, still gluten free! I still have not noticed a grand difference that people say happens when you cut out wheat, but I have noticed minor changes, and I definitely feel like my stomach is much flatter and not bloated since the switch. The only GF products I have bought, other than things that are naturally GF, are brown rice bread and some pancake mix. Most GF products contain eggs or dairy, so that limits them since I am vegan. I eat so many vegetable based meals that I really don't miss it. It makes it a little more difficult when I cook Mya and Andy meat substitutes, most contain gluten, so just I have tofu or tvp as my protein. But overall, I feel really good and I am happy to have made the switch. I know I can better serve my nutrition clients that have wheat allergies by having some experience eating GF.
My workouts are steadily becoming even more intense since bathing suit season is weeks away. Lots of cardio, strength training and a new love for yoga. When I was younger I tried yoga and thought it was too slow for me, now I love it and find it is such a great strength trainer and my flexibility increases each day, and I needed that!
Other than that, the count down for school to be done is on. I don't know who is more excited, Mya, Andy or me. We love our long summer days and fun day trips. I hope we get to have lots of fun this summer.
Ok, so onto the meals… What I Ate Wednesday 66…
Breakfast for me was one gluten free pancakes topped with chopped strawberries alongside a super thick and creamy mixed berry shake adorned with some gluten free coconut hemp granola. The shake was filling on its own, but I had to indulge in a pancake too, Mya and Andy's looked so good. Luckily it was in within my calorie bank for breakfast and I was still recovering after an intense workout.
My every 2.5 week grocery shopping was today. I had a partner in grocery crime today, my dad! He accepted my invite to go to Trader Joe's and Wegman's for the large orders. I have very little self control grocery shopping. I love to have everything on hand for any possible recipe inspiration that might pop up. It was quite a trip and I stayed on budget, well almost!
Dad helped me with my two carts full at TJ's and then with my other at Wegman's. Three hours later I returned home starving.
I very quickly put away the frozen items that were quickly beginning to melt. Lunch could not come fast enough, luckily, I thought ahead at the stores and picked up a pack of veggie sushi from TJ's, and a bag of Asian chopped salad from Wegman's. Perfect combo.
My mom bought Mya some sushi the night before, and I could not stop wanting some! I like mine with lots of ginger and avocado with a hint of wasabi.
The salad came with a side pack of toppings that included almonds and Asian noodles, since those are not gluten free, I made sure none of those landed on my salad, almonds only. I do not have an allergy, so I don't have to worry about the flour residue they may have gotten on the almonds. My mom also brought Mya some lo mein last night, it was a big container so I gave Andy some with his lunch.
This lunch hit the spot, it was exactly what I wanted. It satisfied all my cravings and it held me until dinner. I spent the next hour putting away all the groceries. I have a tip for any of you who keep their bread frozen and use it by the slice as I do. Since I am the only one who eats it, and I only have one slice a day, the freezer is where my GF bread stash is kept. Sometimes, the slices do not want to come out so easily, they freeze together, so every time I pick up a loaf, I spend a few minutes keeping that from happening.
| | |
| --- | --- |
| 1. Unwrap Bread | 2. Insert Cut Up Deli Paper |
3. Re-wrap and freeze! No more stuck slices! Works every time, and I even reuse my papers storing in a bag until I buy a new loaf.
I was so excited by all the newly stocked foods in the fridge and I was dying to try the corn on the cob TJ's had on display. It was our first corn of the season, and although I was expecting the corn to be subpar, I still based my dinner menu around it. Wow, was I pleasantly surprised when I took my first bite into the pale small kernels, it was as sweet as August corn! Why didn't I buy more?
For me, a gluten free bun-less veggie burger with the works, corn, one very small baked potato and a few tablespoons of baked beans on the side. Summer must be coming!
Aren't potatoes so photogenic?
They are such camera hogs, they try to get in every photo!
Mya and Andy had burgers…with buns!
Following this summery dinner, strawberries made another appearance for dessert, in more ways than one!
Another great Trader Joe item, dairy free strawberry coconut milk ice cream. For those of you who do not like coconut, it only tastes like strawberries and cream, not coconut. It was perfectly balanced sweet and creamy.
Dessert consisted of a firm ripe strawberry cut into two and filled with a few tablespoons of the strawberry heaven ice cream. I topped the ice cream with slightly sweetened shredded coconut. This dessert was a perfect end to a summer meal, small and sweet, no guilt here!
What is your favorite way to eat strawberries?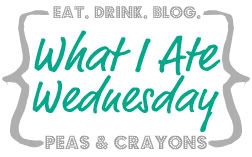 Thanks for stopping by, I hope you have a great day and enjoy some fabulous meals!