Hi Everyone! I can't believe it's my 13th WIAW! This WIAW features my Tuesday meals and snacks with exception of a few cups of my favorite organic coffee.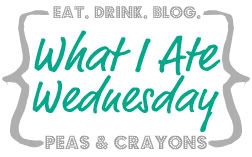 Today, breakfast was inspired by lemon, again. It seems I am a bit obsessed by lemon lately. Luckily, Andy and Mya love lemon as well. So, I thought lemony protein pancakes with a blueberry and lemon infused agave would be perfect. I was right. I used a mixture of sprouted whole wheat pancake flour, vanilla protein powder, egg replacer, baking soda and powder with water, lemon juice, lemon zest, and a drop of lemon extract for a light lemony batter. These cooked up so crisp, light and fluffy. Perfect. My syrup was agave, frozen wild blueberries, lemon juice and zest. I warmed it for a few seconds in the microwave and topped the pancakes with just enough for a sweet lemon blueberry burst. This was a fabulous cloudy morning breakfast that was filling until lunch.
Midmorning, I prepared lunch so it would have time to absorb all it's flavor and cool down to serve.
I have made several versions of tofu "egg" salad, they have all came out well. This however was different. For the first time I poached my tofu, the way I do for morning tofu "eggs". I cooked it for 10 minutes and then drained it and cooled it in a strainer. I saved a portion of the tofu to be my "yolk". I cooked the "yolk" in a pan with nutritional yeast, turmeric, sea salt and pepper. Once cool, I added in some vegan mayo, relish, and pepper.
I blended it all together and refrigerated it until we were ready to eat.
To serve, I placed some tofu "egg" salad on top of 20 calorie crispy whole grain crackers, then topped them with baby spinach, onion and tomato.
Leftover Chicken-less Noodle Soup on the side.
Afternoon snack served with coffee…Strawberry Cheesecake Bars. This is another recipe in progress. I may save this one for publishing! These bars taste like a danish with fresh strawberries inside. The many versions of these test bars have only lasted a day in my house. They are gluten free, high protein and low calorie. Ten minutes of prep and 45 minute in the oven and these bars are a decadent delight.
And then there was dinner. An early dinner. I whipped up a quick couple of veggie burgers, sweet potatoes and baked beans because Andy was supposed to have an early game. Just as we quickly polished off the meal…rain out., all games cancelled. I was still glad to have been able to have an early dinner. I prefer early to late any day. The burgers were really good, piled high with toppings, and the potatoes were soft and so sweet. Andy's was on a bun, Mya had hers on bread and I had mine breadless, as usual.
Have another great Wednesday…I hope the rain stays away. I don't want to miss another soccer game.