Fourteen weeks of sharing a day's worth of meals with all of you, thank you for reading!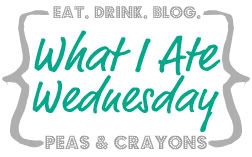 Breakfast was a tofu scramble with a mixture of fresh veggies and some leftovers from last night dinner. I cooked up peppers, onions, potatoes, 1/2 apple sage Field Roast sausage, baby spinach, seasoned tofu, and a few slices of leftover polenta on the side.
Lunch was grilled corn tortillas topped with a black bean salad, a small dollop of sour cream, and shredded spring mix. The black bean salad was a combination of black beans, rinsed and drained, chopped sweet onions, diced jalapeno peppers, diced mixed color baby bell peppers, chopped avocados, diced tomatoes, roasted corn kernels, and seasoned with Mrs. Dash Fiesta Lime seasoning. This was a delicious lunch that was rich in vitamins and antioxidants.
Apple Cinnamon Protein Bars were a mid morning project of recipe testing. This was my best batch to date. I topped them with a crispy cinnamon oat crumble. I also mixed in fresh apples, raisins and walnuts.
Since a grocery trip is planned tomorrow, I decided to use up some of the veggies so I can replenish. I made a simple dinner of stove grilled portabella mushrooms, green zucchini, asparagus, and steamed cauliflower. I served the vegetables with quinoa and a few Gardein Chik'n Tenders.
For dessert it was a cup of decaf Dark Magic and a small bite of an apple bar.
Off to do my bread orders, have a great Wednesday.