Hi all, welcome to What I Ate Wednesday #78, thanks so much for stopping by.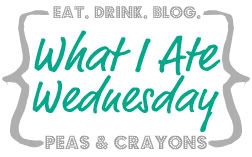 Today is all about the meals, simple summer meals that would make any veggie eater very happy!
Breakfast Sandwiches…
Spinach and portabella tofu eggs with new vegan Daiya Swiss Cheese! Served on a bagel for Andy and 1/2 a gluten free English Muffin for me.
It has been four years since I have had Swiss cheese, I almost forgot what it tastes like. When I saw the Daiya Swiss slices at the grocery store, I was ecstatic. I was so anxious to try, I was scared I would be disappointed, but to my surprise, there is such a thing as VEGAN SWISS!!!! Yes, it tastes and smells like Swiss cheese. Andy loved it as well. I also bought the Provolone and Cheddar. I am planning on "meatball" sandwiches with the Provolone today…can't wait.
These sandwiches were built with tofu eggs, caramelized onions, juicy portabella mushrooms, garlic, and baby spinach, then topped with Swiss, which melted perfectly!
This nutrition packed breakfast kept me full for hours. In fact by lunch, all I wanted was a garden picked tomato salad. I picked a variety of super ripe tomatoes out of my garden.
This one was huge!
Sliced tomato, onion, basil, sea salt, olive oil, pepper and Teese Mozzarella thinly sliced,
I served mine over over a bed of fresh spring mix that I drizzled Balsamic glaze over before placing my tomatoes on top.
Delish!
Chinese for dinner! A stir-fry of shitake mushrooms, green beans, broccoli, water chestnuts, and baked tofu over Jasmine rice.
We also had a evening snack of stove top popped corn, which I forgot to take a photo of!
Thanks for stopping by to see this week's What I Ate Wednesday #78!
Have a great week…
XOXO,