Welcome to What I Ate Wednesday #74! After another busy beach bum weekend, my WIAW meals were pretty simple. Sometimes simple meals are the most satisfying. I keep finding myself making a lot of repeat meals, but that is due to the simple deliciousness of them, not because I have not felt like making more complex meals. Since last WIAW, it was a busy week. I made an appearance on In the Afterlife with Theresa Roba and Carol Velez, fun but scary in front of a live audience and a camera broadcasting a live internet feed! My nerves faired better than I expected, I was happy to share some info and get a few minutes in front of and audience. It was good practice for the upcoming classes I plan on teaching.
Here is a picture of Mya and me before the show, me, Mya and mom at the show, and a brief clip of me speaking at the R3 Wellness Center.
My mom, Carol, and Theresa gave some amazing readings to people who came hoping to reconnect with past loved ones. As many times as I watch the two of them, I am still mesmerized and in awe of their unquiet abilities. You can see the full show by clicking here. "In the Afterlife"
We went on another voyage this weekend. My intention was to photograph all my meals by the bay, unfortunately I was having such a good time that even though my camera was beside me the entire weekend, I forgot to take pictures until after the meals were over! Maybe next week!
Mya did enjoy her 7:00am bagel with vegan cream cheese on the way down.
See, I started off taking pics of meals, it all went downhill after that!
We had a great time at the beach all day. Then there was a dance on the "boardwalk" that evening. She changed from her bathing suit to a dress and she was out the door, back to the kids.
The sunset was beautiful over the bay.
Music and moonlight over the water was heavenly. We stayed there until an exhausted Mya came to us around 10:45pm and said, "I am so tired, let's go back to the camper and go to bed"."
We woke up early the next morning and had a lovely breakfast and some time on the beach before heading home. My brother took excellent care of Prince and Xander and even had a clean kitchen awaiting me at home. He is the best!
After the exhaustion of the constant running was over, time to get back to real life and real food. So here are the WIAW #74 meals!
Breakfast:
After a grueling workout of spinning cardio and heavy legs, I was starving. I had some left over Gluten Free English muffins, so I decided on Open Faced Tofu Egg on Avocado Covered English Muffins.
I sliced up a block of tofu before poaching in in salted water for a few minutes to give it the perfect egg texture. One package is enough for the three of us to have breakfast twice. I briefly season and sautéed half of my poached tofu on a pan a few minutes before topping it with Daiya Cheese and serving it on my GF toast. I put the other half straight in the fridge for tomorrow's breakfast.
The combo of avocado and tofu eggs is perfect, the really ripe avocado lends a yolk like flavor and texture to the tofu egg.
This meal with coffee comes in at just about 400 calories including the little bit of Earth Balance buttery spread! It is not as veggie loaded as I like my breakfast, but, it was certainly exactly what I was craving!
Lunch:
The brown rice tortilla's in my freezer were calling my name. I love making them into crispy pizza's. Andy and Mya enjoy these Gluten Free pizza's as much as I do. Since mom picked me up some Teese at Whole Foods, it was just a meal waiting to happen. I chose to load my pizza with sautéed spinach and garlic with some cooked mushrooms.
Mya had hers with Veggie Pepperoni and mushrooms, and Andy had all the toppings on his.
Dinner:
An active afternoon resulted in the need for a veggie dinner. I made some brown basmati rice with mushroom "steak" and green beans.
Portabella mushrooms sliced 1/4" thick and lightly tossed with steak sauce were then cooked in a preheated pan with coconut oil. This made the mushroom slices glaze into "steak" slices that combine with green beans and become a perfect meal.
I seasoned the rice with a little sea salt, Earth Balance and some Nutritional Yeast for a butter flavor.
Andy loved it! Mya and her friend ate sliders and Mya had some of the portabella on the side. I ended the night with an evening decaf.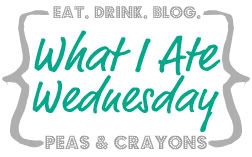 This is What I Ate Wednesday! What did you eat?