Hello and welcome to another edition of What I Ate Wednesday! Colorful plates of vegetables have been the center of all meals. It seems I just can't get enough veggies on my plate. Before I get to all these great meals, a brief update of the week.
I was super excited this week because I was able to take Mya to my old stomping grounds for a short vacation. I grew up spending weekends on the rivers of the Chesapeake Bay in a little private beach community. A few Wednesday's ago I told the story of meeting up with a childhood friend at a party that grew up spending summers on that same beach, just four doors from me. She and her husband were going to visit this past weekend and invited us to come along. I was so happy at the thought of visiting the quaint place that me and my brother spent so many summer days laughing, swimming and trying to avoid getting bit by mosquitos.
We arrived by noon Saturday. We set up camp at a lovely site by the water. Mya was ready to be off and running moments after arriving. We spent from noon until 9pm at the beach catching up with old friends that I had not seen in 20 years.
Mya was off playing the same games we used to play with the kids of the friends I grew up with. I can honestly say it was one of the best weekends I ever had. Mya was free to play and be her nature loving self, Andy had a best friend to throw horseshoes with, I had so many people to talk to and catch up with. I also got to spend some floating in the bay quality time with Helen, who has been a second mom to me. She lives in the Baltimore area and although we speak frequently, there is nothing like an in person visit! The highlight was also seeing my friend Jamie and meeting her family for the first time. We were inseparable as kids, she lived on the farm at the top of the street and we spent a lot of time there. Our families were so close. She and her family came over for Fireworks on the beach, it was too dark for me to get any good pics. Mya had the time of her life. She cannot wait to go back. I think next What I Ate Wednesday will be meals from White Crystal. Camp site cooking is my favorite.
We woke up and had our coffee of the beach at 5:30am listening to the waves gently roll over the beach. The locals were up eating their breakfast as well….
Yes, that is two different Bald Eagles on the beach eating breakfast. I saw them several times during our stay. They have a nest close by. It was a majestic feeling being so close to two of our National Symbols!
Mya spent time gathering rocks and "sea glass" while I did some yoga and stretching before anyone else was around.
We had a fantastic one day vacation, and I cannot wait to do it again. Mya was sad saying goodbye!
Onto the WIAW meals…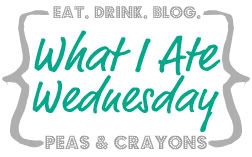 How many colors was your breakfast? I made a rainbow tofu egg tortilla for breakfast!
A sautéed layer of sweet potatoes, onions, peppers, spinach were covering tofu eggs over tortillas slathered in a thick layer of creamy ripe avocado. I topped my rainbow breakfast with corn and bean salsa.
Lunch was kind of rushed so I made a tempeh BLT on gluten free toast.
The toasted gluten free bread was spread with a thick layer of avocado, then topped with red onions, spicy Daiya cheese, sliced ripe juicy grape tomatoes, tempeh bacon, and topped with spinach leaves that were lightly coated in some reduced fat Veganise.
This was so delicious I wished I'd made a second one! I snuck in a few baked potato chips on the side and had my very last piece of raw brownie for dessert.
Can you guess what I made for dinner? Here are the super simple ingredients:
Dinner was another veggie spaghetti meal. This time it was spirial-ized yellow summer squash!
Before I get into dinner, I had many of you post questions asking about which spirilizer I use, so I will give you a link. It used to be called a Spirolli back when I bought it, but it has changed names since then. I still found it on Amazon.
This little device turns squash into low calorie high fiber "noodles" for my very veggie dinners. I had Mya make a whole big bowl of these noodles while I prepped a few other things.
I tossed the squash noodles with sea salt, pepper, and lemon vinaigrette before heating them in my skillet. While they cooked a few minutes until "aldente", I steamed some green beans partially before tossing them with a little of the same vinaigrette and lightly browning them in another skillet. Once cooked I topped the noodles with diced grape tomatoes, some pine nuts and a shake of vegan parmesan. The beans were the side and at the last minute, I heated a bag of grilled artichokes I tossed in bbq sauce to go along side.
This perfect summer meal was under 200 calories and left plenty of room for a shake later on in the night!
Thanks so much for stopping by this Wednesday! On another note, I am excited to be making an appearance tonight on In the Afterlife with Theresa Roba, and my mom, Carol Velez! The show is live on the internet most Wednesday's at 8:00pm. These two blessed women have the gift of medium-ship which they generously share with many people giving them a chance to call in and receive a free few minute reading to connect with their loved ones who have past. This week, they are filming in front of a live audience at the R3 Wellness center. It's located five minutes from me in Trappe, PA. If you have ever been curious about Mediums and wanted a chance at a reading, be sure to tune in tonight, July 10, 2013 at 8pm. They will be taking calls.
I will be making an appearance with several others who have been a part of the show. I am excited to be there tonight! I hope you can tune in.
In the Afterlife with Theresa Roba & Carol Velez
R3 Wellness Center
511 W Main Street Trappe, PA 19426
484-275-0393
Have a great Wednesday, I look forward to next weeks beach meal edition!