Horary, school's out!
I am so happy, probably as happy as Mya! "No more (packing) lunches, no more(looking for)books, no more (writing notes to) teachers, (no more grumpy morning) dirty looks! So much less stress. Now I get to watch Mya and her friends play the long summer days away by the pool, by the creek, in the playroom and make a mess of the yard. Both Andy and I are so happy to have her home. I love watching the kids use their imagination and play. I feel so blessed to have a business where I get to experience all those things during days off. As stressed out as I get sometimes, even when I am yelling, I am always grateful to be able to be there!
Instead of rushing out the door looking for the other shoe, forgetting the lunch box as we are halfway to school, now we get to enjoy long breakfasts sitting outside by the pool listening to the birds chirping. Mya loves to get up early, she gets up even earlier on her days off, then school days. She does not want to miss a moment of play time.
This week is weekend WIAW meals and events. Saturday morning breakfast by the pool was Danish pancakes for Mya, doused in powdered sugar instead of agave with juicy ripe strawberries on the side. I think she likes these because they remind her of donuts.
Andy and I had tempeh "bacon"tofu egg and Dayia cheese on gluten free toast smeared avocado with a Trader Joe hash browns. It was a weekend and we had a full day of cleaning ahead, so a heavier breakfast seemed just right, mine was served open faced.
As soon as breakfast was eaten, cleaning commenced. Starting in my nutrition/writing/exercising/reading/researching, praying and meditating space. Well, I use it for all of that, except, the meditating, that's more of an intention to be better at doing more often. It's my favorite room and leads right to the patio where I get to look at the flowers and hear the fountain water trickling peacefully.
The view through my doors into the patio and garden is so relaxing.
We were all hot and hungry from cleaning when lunch time arrived. I made some gluten free pizzas on brown rice tortillas while Andy, Mya and Prince took a refreshing dip into the too cold for me pool water.
The cooked up some veggies for the pizza. Eggplant, zucchini, onions, peppers, mushrooms, and olives were toppings along with some Trader Joes Vegan Mozzarella.
Cold beer with a slice of pizza tasted amazing! I had a few sips before realizing it had gluten!
Some more cleaning and organizing happened before we got ready to go to a local carnival. I threw together a quick dinner. Some TJ's frozen brown rice medley topped with mushrooms, onions, Tuscan kale and sweet and hot mustard green beans.
I love the sweet and hot mustard. It went perfect on the green beans. Andy and I both loved it. Mya ate hers without.
Mya was excited about the carnival all week. We were meeting her friend there and she knew just about everyone she ran into. She and her friend ran from ride to ride. I love seeing her so happy. They had a blast.
It was a gorgeous evening, 80 degrees and sunny until sunset. Andy and I watched the girls while they repeatedly rode the same rides over and over.
Mya agreed to not eat carnival food, and I promised a surprise when we got home. I recreated a healthier vegan gluten free version of one of my childhood carnival favorites, waffle ice cream sandwiches. These pics were at night indoors, so excuse the lack of color and clarity!
Vans Gluten Free Vegan Waffles were the base, followed by a scoop of TJ's chocolate coconut milk ice cream, a scoop of TJ's strawberry coconut milk ice cream, and a scoop of TJ's vanilla soy creamery ice cream. The ice cream got an upgrade when topped with chocolate syrup, sliced bananas, and some crunchy organic peanut butter before being crowned with another waffle and dusted with powdered sugar. YUM!!!!!!
Sunday we continued finishing the work we started Saturday. We got together with the neighbors for a pot luck dinner. Lisa hosted at her beautiful house on the creek, where Mya and Prince love to play.
She made some burgers and lots of veggies along with some strawberry daiquiris. The Benner's brought shrimp, Andy and the guys had a few beers while we had an enlightening discussion of the area we live and it's awesome history.
I brought a container with our gluten free veggie burgers and some toppings, I also brought baked potato's and baked beans to go alongside Lisa's veggies.
Everything was so delicious. We were all enjoying ourselves so much, I did not want to leave to go home and do bread orders, but alas, it was necessary!
I served my burger on a lettuce bun.
It was a perfect end to a gorgeous weekend. Mya was looking forward to her final two half days before her summer really starts.
Thanks for joining me for another…WHAT I ATE WEDNESDAY!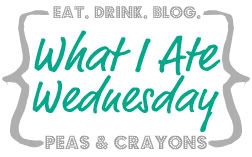 Thanks for stopping by, see you next week!