Will spring ever arrive? That is the question I keep asking myself as I desperately wish for my fresh garden vegetables. I live in the North East and by now it is usually so nice every day all you want to do is be outside. Not this year, even my morning heat keeps kicking on. I have happily decided to declare spring myself, before summer comes in a month. So bring on the berries and asparagus, I can't wait any longer.
Updates:
It has been about 5 full weeks that I have been both gluten free and calorie and nutrient tracking and I can say although slow at first, I can finally see and feel the results. I am four pounds down, three more to go and all of my exercise is paying off as well. I feel tighter and much better in jeans. Feeling good keeps me motivated and makes me want to keep striving for that goal.
The other update is that I am really making progress on my book. I am spending hours a day organizing my thoughts and researching the best way to publish. My brain has been spinning with all the ideas and writing. I tease Andy that I need a desk in the shower, it seems my best ideas come to me in there, must be that there is no distractions! I will keep you all posted and get a sample chapter posted once I am further along.
Onto the meals…
Once again, I am boring, I either have been eating one slice gluten free bread slathered with fresh ripe creamy avocado then topped with some tofu egg, or a super nutrient shake. Today I had both. A mini shake and my tofu egg on toast. I am getting used to the flavor and texture of the Raw Meal, now I am really liking it and it is a nutritional powerhouse. Even the gluten free brown rice bread has grown on me. I have not craved any breads.
Shake today was 1/2 scoop vanilla Raw Meal, 1/2 banana, ice, 1/4 cup unsweetened soy yogurt and cinnamon. This was thick, frothy and creamy.
The brown rice toast is so small, a little bigger than half a slice of regular bread, but really dense. I keep it in the freezer and then toast it twice to get the right color for me. It is not really nutritious but it is filling with my tofu egg, so I limit it to a few times a week. Smothered in avocado and topped with tofu egg and a few shavings of Daiya cheddar, it is super egg like!
I only used about an ounce of tofu on this because I planned on having some tofu with lunch, I try not to eat more than four ounces a day.
I served Mya and Andy's on wheat bread. Mya's was shaped like a flower to encourage spring to come!
Lunch:
I have been craving quiche lately. Since I had some leftover grilled veggies, I thought I should make a crust-less quiche and salad for lunch. Before I share the recipe, which, yes, for once I recorded while I made it, I have to say it was so delicious. I really should make this once a week and cut up slices for a ready made lunch. With quiche, the filling possibilities are endless. Gluten free, vegan, protein packed, with lots of veggies, perfect beside a salad.
Crust-less Vegan Quiche with Grilled Vegetable
One 19oz pack soft tofu
4 tbsp. nutritional yeast
2 tbsp. arrow root
1 tbsp. Italian seasoning
1/2 tsp. Himalayan BLACK Salt
1/2 tsp. turmeric
3 tbsp. chickpea flour
2 tbsp. non dairy milk
1 tsp. Dijon mustard
1 tsp. olive oil
1/4 tsp. tamari
1 tbsp. white miso paste
2 ounces Daiya block cheese shredded (I used jalapeno)
2 cups cooked veggies of your choice
12 cooked asparagus spears for top
Preheat oven to 375. Spray one deep dish pie pan with non stick cooking spray.
In a food processor, combine all ingredients except vegetables and cheese. Blend until smooth, scrape down sides as needed. Transfer to a bowl. Fold in chopped grilled veggies. Mine were one cup left over peppers, onions, zucchini, and 1 cup Tuscan kale cooked slightly with coconut oil. Stir in shredded cheese. Transfer to deep dish pie plate. Smooth mixture on top then garnish with asparagus spears. Bake at 375 for forty minutes until top is golden and beginning to pull away from sides. Allow to cool 20-30 minutes before serving. This keeps it warm, but allows it to set so it can be sliced. The black salt gives this an amazing egg flavor. I was so happy with this dish, I wished I made two!
Sliced in 8 pieces, this quiche is on 160 calories and boasts 10 grams of protein!
Paired with a colorful salad and a cup of coffee for a 350 calorie nutrient packed lunch. I look forward to the leftovers.
Dinner:
I had one slice of quiche with a few pieces of grilled eggplant. I topped the eggplant with bruschetta and a few shavings of Teese mozzarella. I had a light dinner because, I wanted a shake later to finish off the day.
Mya and Andy had leftover meatless meatballs on Italian Kaisers with reduced guilt chips on the side.
I wanted to share one more meal. All week I looked forward to Saturday night, when, my best friend since second grade, Kate, who is really more like my sister, came over with her family. Our girls are both almost the same age and play just as we did as kids. It makes me so happy! Her husband Mike is a chef and generously made us a huge batch of his infamous grilled vegetables. He brought a platter piled high with grilled eggplant, zucchini, onions, bells peppers, asparagus and garlic. That is why I had such great veggies to add to my quiche.
Saturday promised to be super busy. It stared with two Lacrosse games in the freezing cold with chilling wind that did not stop. Mya did not mind as much. I was so cold, I spent most of the second game in the car.
The girls got to play at a local college on the turf field and then were invited back two hours later to escort the college players onto the field then attend the game. Mya was thrilled. Andy took her back for that while I prepared for our dinner guests.
Saturday Night's Menu
Appetizer of Bruschetta with bread from the bakery
Quinoa Bean Chips and Salsa
A large salad
Brown Rice Pasta with Meatless Meatballs.
I forgot to take a pic—this was from last time!
Michael's Grilled Veggies
Dessert: Amy's Gluten Free Vegan Cake dressed up with Amaretto Glaze
The rest of the meal was lots of Moscato Wine garnished with plenty of lemons and limes!
Well, that concludes all the meals and this super long post. Thanks for checking in. I hope you had some great meals as well.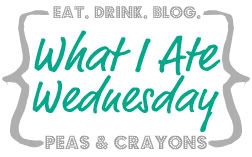 Have a great Wednesday! I know I am going to enjoy the predicted sunny 72 degree day!
XOXO,