Happy What I Ate Wednesday! I hope everyone is having a happy start to your new year.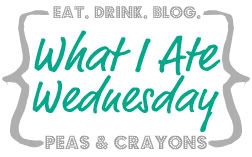 January means a fresh start to a everyday eating. The new year brings about a renewed sense of discipline for me. My mornings are starting out with a shake and some avocado toast, or a mini tofu "egg" on flatbread. Today it was a Blueberry Pie Protein Shake.
Excuse the "Bud" glass, I was going for the Flyers logo…yea, hockey is coming back. Andy is thrilled!
Thick, rich, frozen and frothy. A coconut vanilla base with layers of freshly defrosted juicy wild blueberries. This shake is a meal in and of itself.
Blueberry Pie Protein Shake for two
1.5 cups fresh or frozen wild blueberries
1 tbsp. agave
8 large ice cubes
1 frozen banana
2 cups coconut or almond milk
2 tsp. vanilla extract
2 scoops vanilla vegan protein, (I used Spiru-tein)
2 tbsp. hemp seeds
2 tbsp. chia seeds
1/3 cup rolled oats
1/3 cup shredded coconut
Defrost blueberries for 1 minute in microwave or leave out in the fridge over night, mixed with 1 tbsp. agave. Set aside.
Place all ingredients except the blueberries in a high speed blender. Blend until thick and creamy.
Pour half into two glasses. Scoop in half the berries in each glass. Top with remainder of shake. Pour remainder of berries on top, and serve!
Just because I am enjoying a healthy start to the new year, does not mean that hoagie cravings don't still occur. My healthier hoagie bites are just right for those cravings. They also make a filling lunch that is so satisfying it feels like a cheat meal.
My hoagie bites are butter lettuce cups filled with all my favorite hoagie ingredients. Thin slices of Tofurky turkey, shreds of Daiya jack cheese, a mixture of spring mix, chopped tomato, hot and sweet peppers, Italian seasoning, white balsamic vinaigrette.
After lunch, I wanted to make Mya a sweet treat that she loves. My vanilla protein bark. Since vegan white chocolate is hard to come by, this is a great option.
The trick to this bark is melting coconut oil, adding a little bit a agave for sweetener, and stirring in some vanilla protein powder.
Then add your favorite stir-ins. Mine are pistachio nuts, raisins, hemp seeds and coconut.
Pour mixture into a parchment lined glass dish and pop into freezer.
Eat some pistachios while waiting.
In one hour, it will look like this…
Break into pieces and enjoy as an after meal sweet treat.
Dinner time, I was looking forward to this meal all day. Eggplant Parm with salad.
Whole grain spaghetti in a tomato basil sauce topped with vegan eggplant that was frozen and baked until crisp.
A lovely side salad necessary to keep me from eating too much pasta!
When I grew up salad always accompanied pasta. Today we call it spaghetti and sauce. My grandmothers called it "macaroni and gravy". Now, macaroni is associated with a small box and powdered orange cheese, and gravy is something brown and salty that goes over mashed potatoes and meat. When I was a kid, I loved when the "gravy" mixed with the vinaigrette in the salad. Today, the moment those two combine on my plate, I am flashed back to being 10 and wiping the plate of "gravy" and vinaigrette with a piece of crusty Italian bread. Food memories are so powerful. I hope I can pass those to Mya the way my grandmothers cooking has been the inspiration in my life.
Thanks for joining me for WIAW. Now, go make a memory in your kitchen.