Happy What I Ate Wednesday! I had so much fun making all my meals today. I am happiest in the kitchen, it relaxes and excites me at the same time.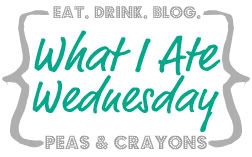 This week I am doing some experimenting with my vegan meals. I am trying to use as many veggies as I can and less meat replacers. I always treat meat replacers as a condiment to my veggies. This week I am trying to focus more on meals that are mostly vegetable and grain based. So far so good.
Instead of my favorite, tofu scramble, breakfast today was oatmeal for me, grits for Mya and Andy. I made "oatmeal Raisin Cookie" oats. I started with my plain bowl of whole oats, not quick cook, added some shredded coconut, raisins, walnuts, cinnamon, a tiny bit of agave, coconut milk, and a spoonful of crunchy granola on top. It was so good and really tasted like a cookie! It was twenty eight degrees this morning, so the warm oatmeal was a welcome breakfast.
Right after breakfast I started on lunch. I made a pot of chicken-less Wild Rice soup. The classic celery, carrots, onions, but I added a kick with half a can of diced tomatoes with green chilies. It made a great boost in flavor with a mild heat. It turned out even better than I expected, I ate a bowl and a half. Mya was home for election day and she had a nice bowl too. Soup is not the most photogenic meal.
After lunch, I was lucky enough to have Mya join me in the kitchen to help make a coconut bread that was outrageously good.
I made a version of Chocolate Covered Katie's Breakfast Coconut bread. I tweaked it for the ingredients that I had. It was so delicious and easy to make. Less than 1/2 cup sugar in the loaf.
We made a glaze of powdered sugar and coconut milk.
While the bread was cooling, I prepared dinner. Stuffed Shells.
One of my favorite meals. I usually stuff them with tofu cashew ricotta, but this time I made a cashew ricotta. It was so rich and creamy. I soaked 1.5 cups cashews for a few hours before blending them with some garlic, miso, Italian seasoning, and a pinch of salt. Perfect cheese replacement.
In a cast iron pan, I sautéed minced mushrooms, minced onions, and a bag of frozen spinach with some garlic seasoning, a pinch of sea salt and some pepper.
Then I combined the two.
Then begin to fill.
Add sauce…
Bake 30 minutes…
and serve.
What a day in food. I can't wait to eat leftovers tomorrow, or now. The rest of the coconut bread is haunting me from the kitchen. Thanks for stopping by!
Have a great Wednesday!