Hello all, and welcome to another addition of What I Ate Wednesday! This weeks meal plans were a little gentler on the stomach, nothing as spicy as I usually like.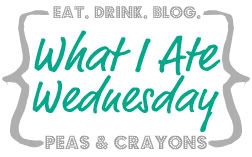 I have been watching what I eat this week due to experiencing a few days of stomach pain after taking Aleve on an empty stomach. I am pretty sensitive to all medications, but when we were camping, I got a horrible migraine from the smoke of a bonfire and woke up in the middle of the night with my head screaming in pain. I was not thinking, and took two Aleve, without food. The intense headache was still not gone by morning and I ended up taking another. Ever since then, my stomach, which is usually thinking about the next meal while I am currently eating, has been in knots. I have had this happen to me once in the past, same situation. I should have known better, but at 2:00am I was not thinking about food, just pain. So the WIAW meals I am sharing today are stomach friendly, so I can eat and heal. Anyone else ever experience this?
For breakfast, I opted for some stomach soothing probiotics. I made a parfait of sorts. The base was 1/4 cup Swiss muesli sprinkled generously with cinnamon, then a 1/3 cup dollop of plain soy yogurt that I blended with vanilla Spiru-tein protein powder until thick and creamy. Next, I mixed in some fresh blueberries, blackberries and diced strawberries. Then, I added some Uncle Sam's cereal and some hemp seeds for fiber and protein. I garnished with another tbsp. of my protein yogurt and a few berries. I felt much better after breakfast.
After catching up on my daily blog reading while on the elliptical, I was inspired by egg salad. I have not made my "Tofu Egg Salad" in awhile, I thought it would be a nice lunch. Mya loves this stuff! I make her her own bowl, and she always finishes it. It is quite simple to make and tastes so much like egg salad, you can fool most people. I will post the recipe on my recipage today.
After I made my "egg" salad, I let it cool in the fridge for a while. Once it was cool and the flavors were blended, I made us some wraps. When I made my wrap, I added in some diced up avocado to my tofu egg salad, and it was really divine. Mya and Andy are not huge avocado fans, they eat it, but I adore it. I put it in everything I can. My wraps were made on Flat-out Lights, which, if you have been reading my blog, you know I highly recommend. They are high protein, high fiber, and low calorie wraps, which are great cold or toasted as a pizza shell. I filled them with spring mix, chopped tomatoes and my tofu egg salad. We had a handful of baked chips on the side.
Lunch was so protein and fiber packed, that I was totally full until dinner. To keep with my stomach soothers theme, I decided to make millet for dinner. Millet is an under used grain that is a nice change from rice. It has a wonderful nutritional profile, full of minerals and protein, and it is also extremely gentle on the stomach. This versatile grain is not just "bird food" it can be cooked and eaten like rice, prepared like polenta or mashed potatoes, it can be added to baked goods for crunch and it can even be sweetened as a breakfast porridge. Remember to always rinse your grains well before using. You will be surprised how dirty the water gets when you clean rice, quinoa, millet, etc.
I checked the fridge for veggies, we had zucchini, onions, and mushrooms. I added some Gardein Beefless tips for some extra protein. I made my millet like rice. 1 cup millet rinsed well, drained, added to a hot dry pan. Then I toasted it about 8 minutes before adding it to 2.5 cups boiling water and 1 cube vegan low sodium bullion. I let it simmer with lid on 20-25 minutes until it was fluffy like rice.
In my double griddle pan, I cooked all the zucchini until it was browned on both sides, then let the onions grill beside them. The a cooked the mushrooms and added a slash of Braggs liquid aminos to them. Finally I cooked the beefless tips in a little coconut oil until browned on all sides. I seasoned the zucchini with Mrs. Dash garlic blend. I placed some millet on our plates, then a pile of veggies and a few pieces of the Gardein. It was fantastic.
Of course, Mya wanted her leftover vegan "mac and cheese" and bbq chicken from the night before. So I heated that up for her. When she saw me cooking the zucchini, she said, "zucchini again". She thinks I am making a lot now, wait until I can pick it from my garden! We have zucchini everything!
Since we ate around 4:30pm, my stomach began to growl at 8pm, so I had a tiny bowl of Uncle Sam's cereal with berries, drenched in Almond Breeze Coconut-Almond milk.
I did feel much better after eating all these meals. I will be getting the recipes up sometime today. Have a happy Wednesday!